The cottages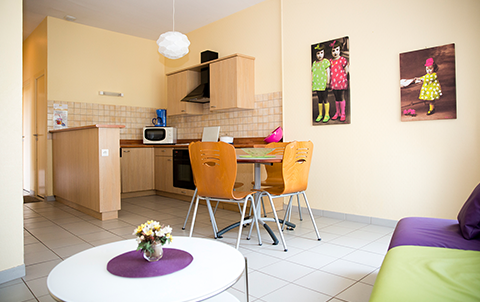 Introducing our cottages
The cottages can accommodate up to 8 persons.
Groups, individuals, families with or without children, seniors, sporty people, hikers,...for one night or more, the cottages are comfortable and private.
The furniture is modern and you have a well equied kitcen (dish washer, cooker hood, microwave, electric oven...), bathroom with private toilets, furnished terrace...
A stay in a privileged environment
You can come all year in a peaceful environment, at the heart of nature with an incredible view over the Mont Saint Michel.
Our Holiday Village is famous for its quietness, its sweet life, in accordance with the nature.
You'll enjoy our facilities: Indoor and heated swimming pool, sauna, Jacuzzi, tennis courts, mini-golf,...
Our Rates
Cottage 3/4pers
Cottage 5/6pers
Cottage 7/8pers
Week high season (08/07 to 02/09/17)
647 €
822 €
977 €
Week mid season
(01/04 to 08/07/17, 02/09 to 30/09/17,
21/10 to 05/11/17, 22/12/17 to 07/01/18)
418 €
524 €
637 €
Week low season
383 €
490 €
564 €

Short Stay ( not available during easter and summer holidays

4 nights
376 €
487 €
561 €
3 nights
290 €
370 €
426 €
2 nights
195 €
249 €
286 €
DISCOUNT Mid Week(from monday 3 pm to friday 10 am),
Except Holiday school and day off
290 €
370 €
426 €
DISCOUNT 2 weeks (the 2nd one -50%
in mid and low season MS-LS)
MS : 627 €
LS : 574,50 €
MS : 786 €
LS : 735 €
MS : 955 €
LS : 846 €
Bed Linen (by bed)
8 €